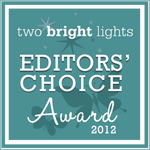 Today started out fantastic! I slept in after staying up way too late redecorating my living room. It looks awesome, btw. Every morning just after I wake up I lay in bed a little longer, pull my iphone off my nightstand and check my email. Today I woke up to two awesome emails!
The first was from Two Bright Lights telling me I had won an award! I am the proud recipient of a 2012 Editor's Choice Award from Two Bright Lights! This means I am in the top 5% of professionals who use their service! Their award letter say:
The 2012 Two Bright Lights Editors' Choice Awards is a signature program that recognizes photographers and vendors within the Two Bright Lights community whose number of published features in 2011 placed them among the top 5% of all Two Bright Lights members. Winners were published across many of the most respected lifestyle, wedding and other print and digital publications in the United States and worldwide.

The 2012 honorees reflect those that have demonstrated a superior quality of work for their customers, and those that have used Two Bright Lights' online platform to quickly and easily get published by submitting their authentic, stunning imagery and services directly to the top industry publications and editors.

Among thousands of photographers and vendors competing for publication, the Editors' Choice winners represent the best-of-the-best.

Sweet! So I would like to thank all of you for being simply gorgeous and inspiring me to take the photos that keep getting published by blogs all over! Without you, I wouldn't be where I am, because I'd be taking pictures of blank walls. :)
The second email is from one of my most favorite restaurants in San Diego- Ra Sushi. It's nearly my half-birthday (which I DO celebrate!), and Ra Sushi sent me a coupon for $20 off my dinner for my half birthday! Seriously, how awesome is that? Yummo sushi here I come! Perhaps I shall Sushi it up in celebration of my Two Bright Lights award!